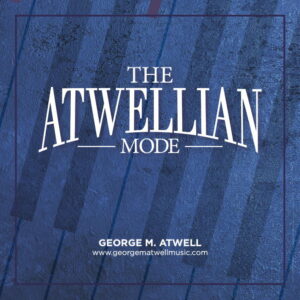 The Atwellian Mode
Music of Reflection, Hope, and Triumph!
Over the years others who have heard his music have described his unique composing "voice" as "Atwellian" or in "the Atwellian Mode" hence the title of his new album.
"These are a collection of musical thoughts in primarily orchestral or hybrid orchestra/synth colors…sprinkled with a few "pop" pieces to bring a smile to the face!"

– George M. Atwell
Song Descriptions
Joyous Romp
A brilliant, techno oriented explosion of jubilant song. An unusual and powerfully creative mix of rock and traditional instruments "with an attitude!"
Winter Mood
Pensive, reflective piano and orchestra piece, building with more passion then returning to the original theme. Love, romance, leaving home, homesick, making a new start. Facing the future with hope.
Searching…Triumph!
Two moods…the first, unsettled and searching. The second…Triumph! Slashing piano chords usher the way to a heroic, jubilant climax.
Tender Moment
This reflective and sweet melody presents itself with a calm, peaceful piano presence.
There is a Land
A visionary, "seeing beyond" orchestral work of inner peace, hope for the future, wishful, sweet repose.
Open Road
This fun, youthful, free spirited 60 second piece leads you to open vistas, new beginnings, vacation getaway, whatever your mode of travel (car, air, imagination?). Transport yourself to somewhere new…the sky's the limit! A rhythmic mood of anticipation builds to free spirited female vocals with a message of Yes! to life and the road ahead. Rising arc, "Come away," travel, explore.
Rise
A noble and inspiring instrumental with full orchestral soaring horns and strings that uplift and give hope to the heart. Strong, steady arc, sturdy melodies, full, lush, complex, inspiring, rising, mountain top experience.
This Dream
This wistful, emotional melody evokes feelings of memory, introspection, and thoughtfulness. Lush orchestral melodies and harmonies that soar. Beauty and calm.
Carefree Robot
Quirky, sassy instrumental featuring synth solo and "junk yard" drums that will make you smile! Imagine a cute and footloose robot ambling around the town. Fun, happy, playful, odd sounds, silly, insistent bass pattern, breezy synth solo, bag of bolts, attitude, strut, swagger, children being silly, kittens, puppies, baby animals, toddlers walking, falling down, etc.
Heart Yearns
A short theme of longing, remembering, wishing. Orchestral textures with a definite mood, perhaps reaching for the unattainable.
Peace Will Come
A strong, mesmerizing theme carried alternately by treble voices, oboe, strings, and solo cello. It has a rising arc that peaks with great power, then moving to a serene, thoughtful close. Heart tugging, moving, inspiring, beautiful, innovative melodic/harmonic structures, transports the heart, peaceful.
After…
A pensive, thoughtful melody of pain and loss, repeated several times with varied orchestration. A look back at a loved one, yearning, nostalgia.